By Arlene Shannon
When fall arrives, we turn to familiar, reliable foods such as apples, pumpkins, root vegetables, and squash. This year was a tough one for apple growers in the Northeast. A hard frost in May wiped out a large portion of the crop and left many of the remaining apples small and misshapen. There are local apples available though, and an oddly shaped apple still has good flavor! We'll look at some ideas for using apples that are both odd and good.
This year's local orchard crops also share some characteristics with apples from old, neglected trees. Many of us have these old, neglected trees on our property or nearby. Some of those apples are pretty good, a few of them downright delicious, and a lot of them are too sour or tasteless to be of any use. The only way to find out if an apple is good or not is to taste it. Cautiously. It could be very sour. If it turns out you have decent tasting apples on hand, they too will work in the recipes below. You will probably need to cut out a few blemishes and bad spots when using imperfect apples, but there will be plenty of fruit left to use.
The vinegar recipe makes use of apple cores and peels (if they haven't been sprayed with chemicals). Apple cores and (unsprayed) peels left over from baking projects can be stockpiled in the freezer until you have enough for a recipe. This recipe and others, such as apple scrap jelly, are updated versions of "something for nothing" recipes that many old time Vermonters used to make.
Apple Scrap Vinegar
Ingredients:
2-3 tablespoons sugar
2-3 cups filtered or non-chlorinated water
1-2 tablespoons raisins* (optional)
1 pound apple scraps left over from other apple recipes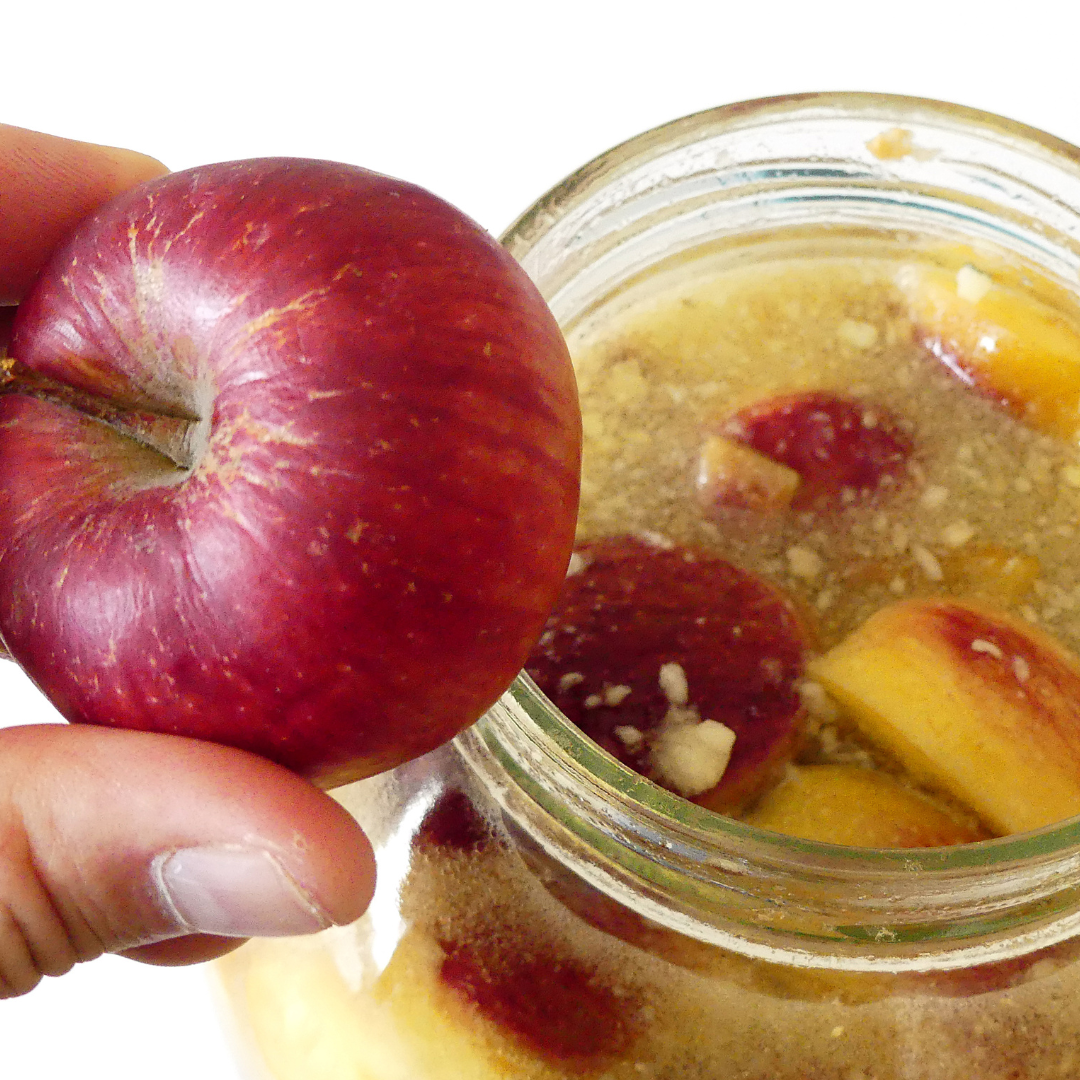 1. Use 1 tablespoon of sugar for each cup of water, Dissolve the sugar in the water. It is important to use non – chlorinated water because chlorinated water could prevent the fermentation process that is essential in making vinegar.
2. Put the apple scraps, along with the raisins if you are using them, into a ceramic or glass crock, jar, or bowl. Pour enough of the liquid in to cover the scraps, but don't worry if a few pieces float.
3. Cover with a clean dish towel and let sit at room temperature for one week. Every day, stir the ingredients vigorously at least once, preferably more. Once fermentation begins, the liquid wll froth up when stirred.
4. The liquid should have started to turn a darker color after a week. Strain out the fruit (it can be composted)
5. Keep the liquid at room temperature, loosely covered, stirring once or more each day, for 2-4 weeks The smell will shift from slightly alcoholic to vinegary.
6. Once the vinegar is as strong as you'd like, transfer it to a jar with a tight fitting lid. You can store it in the cupboard. It can be used for anything store bought vinegar would EXCEPT CANNING. Your homemade vinegar might not be acidic enough for safe canning. Makes about 1 pint.
*Some people find adding raisins or other dried fruit speeds the fermentation process and enhances the flavor of the vinegar, while others don't think it makes much of a difference.
Stovetop Applesauce
This recipe, from "Preserving Everything" by Leda Meredith, is a classic. In addition to being a great snack and side with pork or chicken, applesauce can be added to oatmeal, used as a topping for pancakes and French toast, and as a substitute for some of the fat in baked goods.

Ingredients:
3 pounds apples
2 tablespoons sugar or 1 ½ tablespoons maple syrup or honey (optional)
½ cup water or apple cider or apple juice
2 tablespoons lemon juice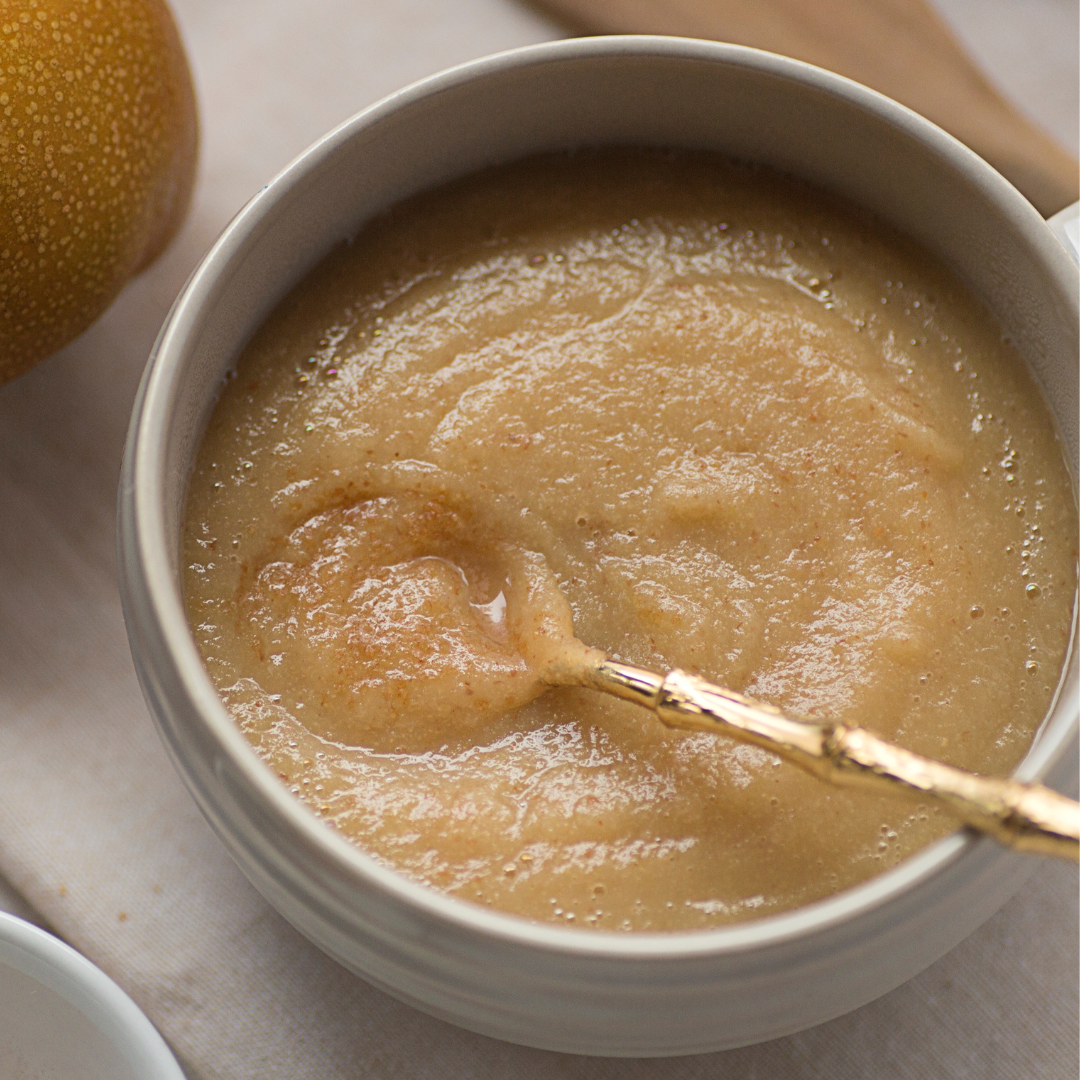 1. Wash the apples. If you have a food mill or food processor, you'll use it later on to deal with the peels. Otherwise, peel the apples. Remove the cores (save them in the freezer for apple scrap vinegar or apple scrap jelly). Chop the apples into chunks about 1 inch thick.
2. Put the apples in a large pot. If you are using the sugar or maple syrup, add it to the apples. If you are using honey, add it to the water. Add the lemon juice and water to the pot.
3. Cook the apples over medium heat for 20 – 25 minutes, until they are mushy. If you left the peels on, run the applesauce through a food mill to remove them, or puree in a food processor (peels and all). If you peeled the apples you can either mash them with a potato masher or puree them in a blender or food processor.
Homemade applesauce will keep in the refrigerator for a week, or it can be frozen for up to 6 months.
Root Vegetable Pancakes

(adapted from a recipe published by Big Y and Pete and Gerry's eggs)
Stovetop Applesauce makes a great topping for these root vegetable pancakes. This is a versatile recipe that works well for any meal and is a great way to use all those root vegetables that are in season.

Ingredients:
3 large eggs
⅓ cup flour
4 cups shredded root vegetables, one type or any combo (carrots, potatoes, sweet potatoes, parsnips, storage radishes, rutabaga, turnips, kohlrabi, and beets all work)
1 medium onion, grated or finely chopped
Vegetable oil for frying
½ teaspoon salt, or to taste
½ teaspoon black pepper, or to taste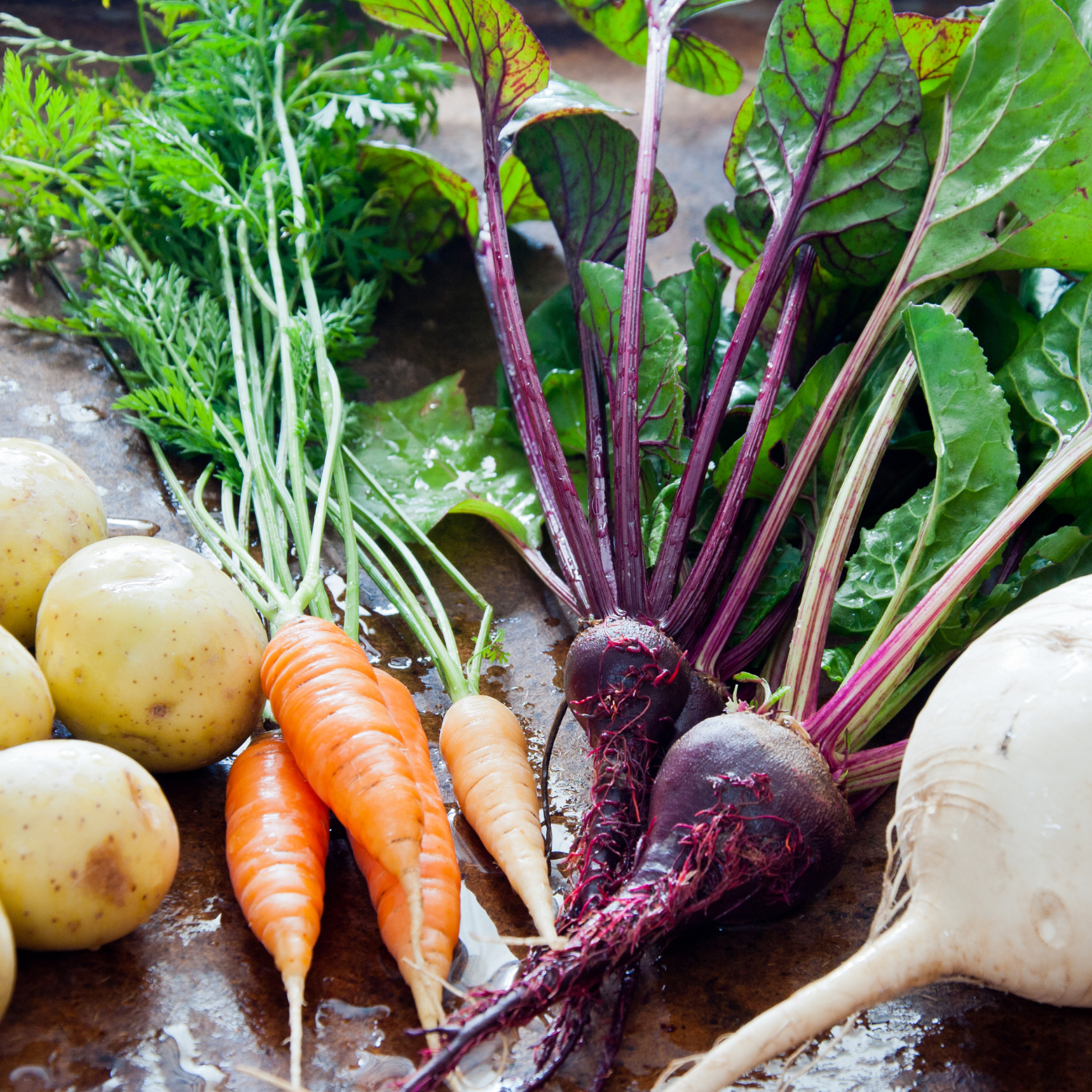 1. Shred the root vegetables in a food processor or with a hand grater.
2. In a large bowl, lightly beat the eggs.
3. Add the onions and root vegetables to the eggs, and stir until mixed.
4. Sprinkle the flour, salt, and pepper over the vegetable/egg mixture and stir to combine well.
5. Heat oil over medium high heat in a large skillet.
6. Drop pancake mixture by about ¼ cup spoonfuls into pan.
7. Flatten each pancake a bit with a fork.
8. Cook the pancakes until they are golden brown on the bottom, about 3 minutes. Then flip and cook 2-3 minutes on the other side.
9. Serve hot or warm with a dollop of applesauce and/or a dollop of sour cream or Greek Yogurt.
If you have leftover pancakes, they can be frozen for up to a month and reheated in the oven or microwave. If you are a person who likes to add things like ground flax seeds or hemp hearts to foods, you can replace up to 2 tablespoons of the flour with either of those.
References: Leda Meredith. 2014. Preserving Everything: Can, Culture,Pickle, Freeze, Ferment, Dehydrate, Salt, Smoke and Store Fruits, Vegetables, Meat, Milk, and More. The Countryman Press, Woodstock, Vermont