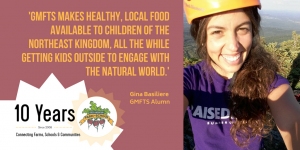 Green Mountain Farm-to-School works with an average of 3,000 students each year, connecting students to food through school gardens, farm field trips, taste tests, and hands-on education. Our Farm-to-School Coordinators work with over half of the students in the Northeast Kingdom, planting and maintaining 24 school gardens annually.
GMFTS started at one school, ten years ago this spring. To celebrate this milestone, we caught up with one of the first students we worked with to see how our programming has impacted and shaped the communities and individuals we serve.
Gina Basiliere, now 23, first became involved with Green Mountain Farm-to-School as a student at Troy Elementary School in 2009- the site of one GMFTS's first school garden. "I remember working to build the beds and the excitement of planting seeds and starters," says Basiliere.
A few years later, Basiliere found herself working for the Jay Peak Resort summer camp. That year, GMFTS partnered with the summer camp, helping counselors understand the garden and teach the kids how to engage with planting, harvesting and caring for the garden. "It was something special to see campers from all over with varying degrees of familiarity with gardens come together and get excited about where their food was coming from," says Basiliere, "they would teach each other what they knew, jump at the chance to water or harvest, and expressed a level of tenderness not seen in other camp activities while handling the plants."

Basiliere says GMFTS helped her spread her love of gardening with others and provided the space, tools, and help to teach her how to pass on that knowledge to future generations of gardeners. "I know that GMFTS has affected every student of every school they work with," Basiliere says, "The connection between the garden and our plates is critical to understanding food systems. Working with plants teaches patience, perseverance, flexibility, and love – that is something that you can't learn from a book."
What's Basiliere's favorite thing about GMFTS? "It is that they make healthy, local food available to children of the Northeast Kingdom, all the while getting kids outside to engage with the natural world."
Share your GMFTS story with us by emailing swestover@gmfts.org or share it with us on social media.