By Esmé Forbes, AmeriCorps Farm to School Coordinaor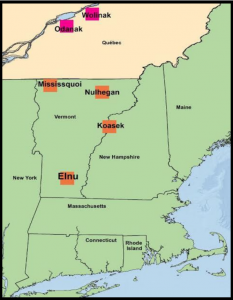 Map of Abenaki Tribes in the Northeast
Source: http://abenakiart.org/yahoo_site_admin/assets/docs/Grades_3_to_5_-_Study_Guide_-_Alnobak.95203501.pdf
Green Mountain Farm-to-Schools programs operate throughout the Northeast Kingdom. This is the ancestral and current homeland of the Nulhegan Band of the Coosuk Abenaki Nation. The Nulhegan Abenaki Tribe became officially recognized by the State of Vermont in 2011, won back hunting and fishing rights in 2020, and are continuing efforts towards tribal sovereignty.
Recognizing the land's Indigenous and colonial histories in the garden
Garden-based education is integral to the service provided by Green Mountain Farm-to-School AmeriCorps members. This past Fall, AmeriCorps members taught garden-based lessons to Elementary and Middle Schools throughout the Northeast Kingdom. These lessons invited students into school gardens to harvest crops, taught them how to maintain a garden space, and deepened their understanding of Vermont's agricultural systems.
Garden-based lessons can significantly shape a student's relationship to the land. Thus, inviting students into a garden space to connect with the land begets the questions: Whose land is this? What is one's ancestral relationship to it? What is one's current relationship to it?
Garden-based education that is void of such historical context oftentimes serves to reproduce and reinstate whiteness and settler occupation within outdoor education spaces. Jacqualine Lever (Métis) situates this within the context of white environmentalism: "The thrust is that white environmentalism wishes to skip the decolonizing process and jump to a post-racial point in time."
Rather, serving as an outdoor educator necessitates engaging with past and present relationships both Indigenous peoples and settlers have had with the land. This allows students to make connections to their own existence on this land – to reflect on the systems in place that allow them and generations prior to occupy the spaces they do.
But aren't K-8 students too young to understand settler-colonialism?
Jen Rivera Bell, Alexandria Middlemiss, Stacia Cedillo, and Fikile Nxumalo all provide great examples of how to teach anti-colonial, age-appropriate curriculum to children.
For older grades, this can look like holding discussions of the history of the land while engaging with it, be it through going on a walk or gardening. For younger grades, this can mean incorporating books by Indigenous authors that center Indigenous knowledge, community, and resistance into outdoor lessons.
Farm to School Coordinator Esmé Forbes read a Haudenosaunee Three Sisters story aloud to a class of Kindergarten students while harvesting corn. Within this story, corn was portrayed not only as a food crop but as an animant, living entity with autonomy and spirits of its own. Moreover, corn was situated as a crop with diverse history and significance within Indigenous food systems across Vermont and Turtle Island (North America).
For future Farm-to-School Coordinators, teaching on Abenaki lands means continuing to challenge the settler-colonialism and white supremacy that exists within outdoor education. It means both understanding and being able to communicate the past and present states of the Nulhegan Abenaki Tribe in respect to regional land and food systems. It is the role of the outdoor educator to consistently relearn and adapt their teaching methods to honor and respect these lands and their living histories.
Sources:
https://dspace.library.uvic.ca/bitstream/handle/1828/11694/Lever_Jacqualine_MEd_2020.pdf?sequence=1&isAllowed=y
https://www.youtube.com/watch?v=F6TUrtyL_rU&ab_channel=JenRiveraBell
https://dr.library.brocku.ca/bitstream/handle/10464/13489/Brock_Middlemiss_Alexandria_2018.pdf?sequence=1&sequence=1
https://journals.sagepub.com/doi/pdf/10.1177/2043610617703831