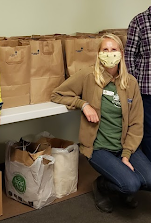 FOR IMMEDIATE RELEASE
NEWPORT, VT
Contact: Jessica Weston,
Communications and Development Coordinator
Green Mountain Farm-to-School
(802) 334-2044
Green Mountain Farm-to-School (GMFTS), has been awarded over $20,000 in grants from the Vermont Community Foundation (VCF), the VCF's Northeast Kingdom Fund, and the VCF's Green Mountain Fund to expand its food security work in the NEK. Since the beginning of the pandemic, GMFTS has been working to source and distribute local food to the charitable food system in an effort to address rising food insecurity and support local farmers and producers.
These grant funds will support the operations of GMFTS's local food hub, Green Mountain Farm Direct, as it continues to distribute local fruits, veggies, meat, dairy, bread, and eggs from more than 30 VT farms to NEK food shelves and charitable organizations. This funding has also allowed GMFTS to expand capacity by hiring a new Local Food Access Coordinator, Alida Farrell. Since late September, Alida has helped to carry out GMFTS's COVID-19 response by coordinating on-going food deliveries within the charitable food system and developing food nutrition incentive programs in collaboration with major partners and stakeholders. Alida was formerly an AmeriCorps Farm to School Coordinator with GMFTS for the past two years.
"GMFTS is grateful for the support and partnership of the Vermont Community Foundation. Their timely response during the crisis has allowed us to meet the challenges head on and provide fresh, healthy, local food to members of our community. Through this partnership we are reinvesting local dollars back into the local economy and helping Vermonters through a very difficult time." said Catherine Cusack, Executive Director of GMFTS.
The Vermont Community Foundation's mission is to inspire giving and bring together people and resources to make a difference in Vermont. It is a family of hundreds of funds and foundations created by Vermonters to serve their charitable goals. Together, their funds and programs provide more than $25 million a year in grants in Vermont and beyond. Learn more at vermontcf.org