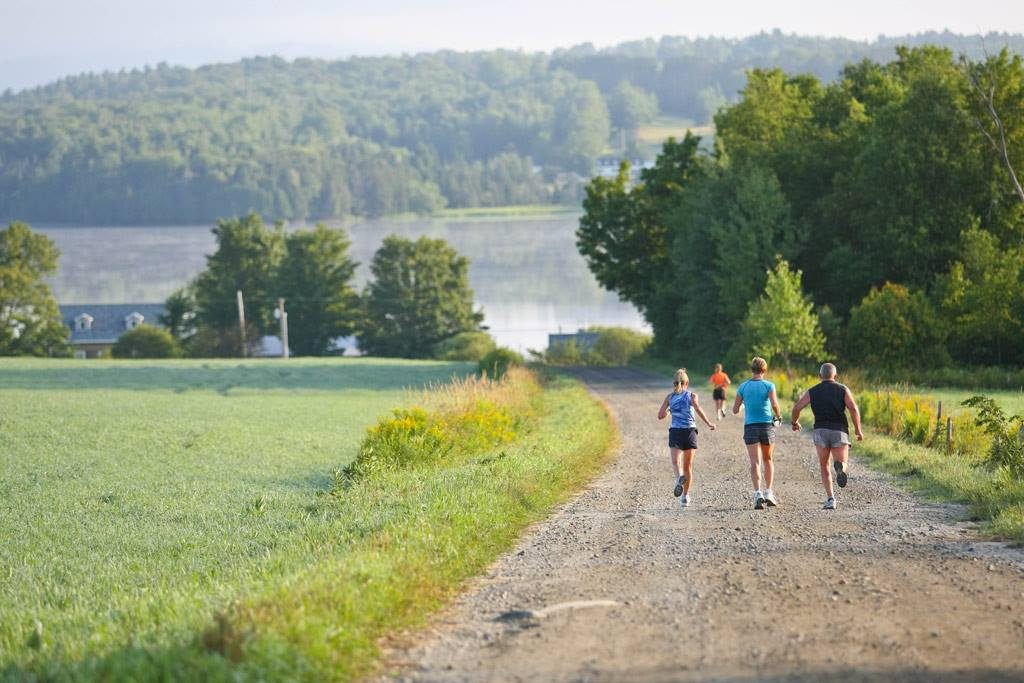 Craftsbury Outdoor Center presents the "Hill Farmstead Half" – a point to point trail and dirt road half marathon from the Craftsbury Outdoor Center to Hill Farmstead Brewery. Race entries raise money for Green Mountain Farm to School's mission to strengthen local food systems in the NEK by promoting positive economic and educational relationships among schools, farms, and communities.
Set off with your fellow runners at 9:30, Saturday, June 9 and head into the rolling singletrack and ski trails of the Craftsbury Outdoor Center, accessing the scenic dirt roads of Craftsbury, including a class IV section of road as you climb to Greensboro and Hill Farmstead. You'll pass thru the fields and forests of Vermont's working landscape, thru sugarbush, dairies, woodlots and more en route to the finish line at Hill Farmstead. Your first beer is included in the registration price, as is a post-race picnic by the Craftsbury General Store. When you're adequately refueled, refreshed and ready to get your car, hope aboard a shuttle that will take you back to Craftsbury and your vehicle. Hard to imagine a better day of running!
Your entry gets you:
Donation supporting the work of Green Mountain Farm to School
Shuttle for your gear to the finish and for you back to your car
Picnic lunch from Craftsbury General Store
Your first pint of Hill Farmstead (for those of age of course – youngsters will get soda)
On-course feed
Registration Details
$50 for 19 and up
$30 for U19
Online registration only – THERE ARE A LIMITED NUMBER OF ENTRIES (100!) Sign up now! Reg closes at noon, Friday, June 8. Bib pickup on race day will open at 8:00am.
Bib pickup and Race day schedule
8:00am – bib pickup opens
9:30am – race start
noon-ish – lunch is served at Hill
Shuttles into the afternoon.
Course
Craftsbury Outdoor Center is holding off on course decisions until we see how moist a section of road is before they post maps, GPX files etc. However, Craftsbury -> Greensboro is a net uphill. Bank on close to 2000 feet of climbing. Roads will remain OPEN during this event! Run no more than two abreast when cars are present.
Lodging
Stay right at the race start in Craftsbury, and enjoy ample, healthy food as part of your lodging package. Lodging details.
Getting to Craftsbury (the start)
While Internet or GPS based mapping systems do a great job to direct one to the Craftsbury area, Craftsbury Outdoor Center recommends using their detail directions for navigation within 5 miles of Craftsbury (from Hardwick North or Irasburg South).